Posted on July 18, 2018 by April Strickland.
---
New to Gainesville and not sure what to do on the weekends? Are you looking for something in Gainesville, Florida that's out of the ordinary? Do you like to explore, hike, horseback ride, or see exotic wildlife? Look no further! We've got some great destinations that you have to stop at if you like traveling off the beaten path. Take a look at our top four picks for wildlife exploration in Gainesville, Florida.
Paynes Prairie Preserve State Park
Grab your binoculars! If you are someone who enjoys a rich array of wildlife and natural habitats, then Paynes Prairie Preserve State Park in a must! Whether you like hiking, horseback riding, or bicycling, this beautiful park has lots of trails for you to explore.
If you enjoy exploring different kinds of wildlife Paynes Prairie has just what you need. With a variety of different animals including livestock, alligators, bison, horses and nearly 300 species of birds, this state park gives you a little bit of everything with its scenic views. Don't forget your sunscreen!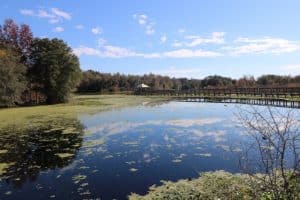 Devils Millhopper State Park
If you're looking for an exotic-rainforest feel for your hiking exploration, then Devils Millhopper State Park is the place for you. Located in a bowl-shaped cavity 120 feet deep, this terrain takes you down into a miniature rainforest. It's here that you can explore a rich vegetation and habitat unlike anything else in Florida. There are also several learning opportunities for you to explore the research behind the massive sinkhole and the fossilized remains of some of the extinct animals that used to live there.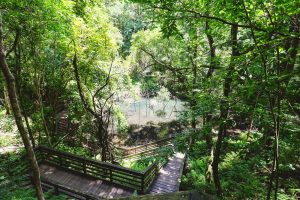 Butterfly Rainforest
Are you looking for a cheap getaway for you and your family? Look no further! The Butterfly Rainforest is the can't-miss exhibit of Gainesville, Florida. The exhibit features hundreds of free-flying butterflies and birds from all over the world. But that's not all— the Butterfly Rainforest also includes other animals like fish and turtles.
Family-friendly, beautiful, safe, and fun, this exhibit offers a hands-on experience unlike anything else in Florida. Another bonus is the skilled staff that are always available to answer questions and offer helpful insight to guests. Grab your camera and come check out the Butterfly Rainforest today!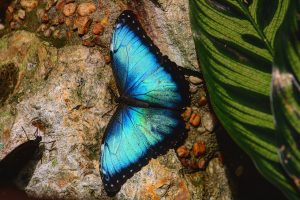 Sweetwater Wetlands Park
Can you really say you went to Florida if you didn't go see the wetlands? Sweetwater Wetlands Park is the stop that you must make when you're in Gainesville. There's no shortage of things to do in Sweetwater. From scenic walking trails to wildlife viewings, and even Nighttime Frog Surveys, Sweetwater Wetlands Park gives everyone an opportunity to explore the iconic Wetlands of Florida. Don't forget the #SweetwaterWetlands hashtag!
Whether you're looking to hike, explore some exotic wildlife and vegetation, or you just want to learn about the wildlife and nature of Gainesville, all these stops will help fulfill your nature desires. Bonus— there are frequently events going on in these areas, so make sure to check out their websites and social media sites so you don't miss out on any of the fun. So, what are you waiting for? Plan your adventure today! Want more awesome ideas? Email us at april@goldenrulerealestate.com