People Over Process
At Golden Rule, we treat each of our clients as family. To us, that means doing what's right for clients and every other party involved. It means doing to others as you would have them do to you.
That's why we have only a 1.5% listing fee – half of the typical 3%. Our goal is to help you get value out of your home, and part of that means not asking for inflated commissions.
We treat selling your home as if it were our own. We work with you at every step to guide you through a clear process, protect your home equity, and help you sell your home efficiently.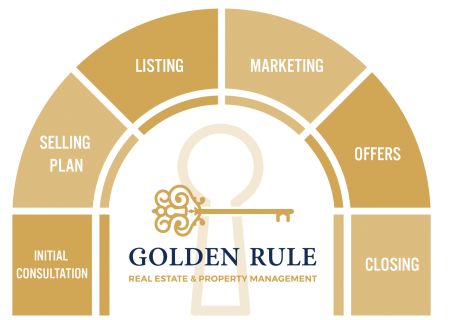 Initial Consultation
The home selling process is all about recognizing and serving your needs. That's why we'll start by consulting with you on your wants and needs, getting to know you and your home, and counseling about the process – from listing to closing.
We'll help you construct a selling plan that includes market conditions, understanding your area, and settling on a listing price.
Then, we'll begin staging. We'll help you evaluate the highest-value opportunities to improve the selling condition of your home. Painting, decor, and landscaping all go into the presentation of a home – you can't change location, but you can always improve condition.
Marketing
In today's market, 95% of homebuyers begin their search online.
First impressions count. We work with you to shape that impression through photography that helps buyers connect with your home immediately.
The most common ways that homebuyers will find your home include listings on the MLS, Zillow, Trulia, Realtor.com, and social media. Market exposure is key.
Once buyers are finding your home, we handle open houses that allow buyers to come in, experience your home and see themselves in it, and give them a chance to ask questions.
Contract to Closing
The contract to closing period includes offers, negotiations, inspections and repairs, legal transfers, and more.
It's easy to get overwhelmed – which is why we act as your personal teacher and guide.
Use our detailed knowledge of the contract to closing period as an asset. We're here to build a strong relationship with you, and to help you breathe easy as we manage your home selling process alongside you.
We look forward to welcoming you to the family!