April Strickland – Broker/Owner
Golden Rule Real Estate & Property Management is different from your typical property management company in Gainesville. As the owner, I wanted us to stand out because of my unique background, our client-first approach and our flat-fee payment model.
While managing your property, my unique skills help ease your concerns. My experience in this field dates back to 1999 when I began managing my parents' rental properties at the age of 13. Add that to my extensive construction and real estate experience, and I am equipped to handle any issues that could arise while managing your property.
As a project coordinator for the hit TV show Extreme Home Makeover, I was in charge of managing 1,000-3,000 people at any given job site. I continue to stay up to date with real estate trends while knowing the ins and outs of the industry, making me the most complete property manager for your home.
---
Rochelle Trygar – Realtor
rochelle@goldenrulerealestate.com
813-786-3346
I came to Golden Rule Real Estate, because of the motto "Do to Others as You Would Have Them Do to You." This is how I walk through life, and it is important to me to protect you, and work for you, as if you are my family. I am committed to being with you every step of the way, and taking care to answer any and all questions, about the process of buying, or selling your home. You deserve to have someone on your side that will be honest, and will do everything that I can to fight for what you deserve. I believe that communication is key, and promise to be there with you, where ever you are in the home buying/ selling process.
Rochelle moved to Gainesville in 2008, and brings with her 24 years of negotiation and sales experience. As a newer agent in the area, she has had the pleasure of helping first time home buyers, as well as seasoned investors. She is known for her diligence and ability to negotiate with even the toughest partners. She is full of energy and likes to get excited with her clients, as they realize their dream of buying and selling their homes. She is knowledgeable and surrounded by an extremely seasoned team, so you'll never have to worry about getting answers and being confident that you are in great hands!
In her free time, she loves being with her family, and traveling. She spent several years in the Virgin Islands, where she met the love of her life, and married him. They moved to Gainesville, so that her husband could teach at the University of Florida, and have found this community to be such an amazing, warm, and welcoming "home".
---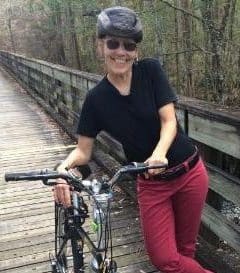 Sandy Malone – Realtor
malone@goldenrulerealestate.com
352-575-4080
I'm a Florida native, born and raised in Daytona Beach, UF grad (botany) and naturalist, former organic farmer and music festival producer.
Whether you're seeking a tidy turn-key or something more offbeat and quirky, I would be honored to help you discover the property that most perfectly matches your desires.
My goal is to treat you as I would like to be treated and to be your advocate throughout the entire process.
---
Melanie Scott – Realtor
melanie@goldenrulerealestate.com
352-246-5393
I moved to Gainesville with my daughter in 2012 from Kentucky, and yes that means that I'm a Wildcat through and through. Real estate piqued my interest years ago, but it wasn't until 2016 that I decided to enroll in a Sales Associate class, after meeting my now boyfriend who owns and flips property with his family. Two years prior to starting my class, I purchased my first Florida home with April's help and a friendship was born.  Knowing it would take the right situation to make the jump, when I heard that April had opened her own agency, I was eager to become a part of the Golden Rule team.
I'm embracing this new challenge, and I look forward to helping others through the entire process of buying and selling a home. I want my customers to have an experience that I would want for myself or my family and I'm committed to making sure that happens.
In my spare time, I enjoy being with my family and friends, cooking, going to the beach, and doing anything slightly artistic. I can often be found at Corks and Colors with my daughter on the weekends.
---

Cher Musgrove – Realtor
cher@goldenrulerealestate.com
352-280-0518
I was born on an Army base in Panama City, Panama and moved to Gainesville, FL when I was about 7 years old and never left. Gainesville and the surrounding areas are my home and a place I love dearly. I hold a degree in Business Management with a Major in Accounting, am a licensed CAM, State of Florida Licensed Plumber, Property Manager, Broker-Associate, and above all a mother. I believe in the importance of community and involvement and that is why I enjoy getting to meet new people every day.  My almost 20 years of job experiences that were specifically with customer service have also instilled in me the importance of communication and the promise of a dedicated service to each and every person that I meet. That is why Golden Rule is the perfect place for me where building relationships and putting the customer first is something that I couldn't agree with more.
When I do get a spare minute I enjoy pretty much everything from cooking, traveling, crafting, reading, cars, and so much more!
---
A Unique Commitment
What makes Golden Rule Real Estate & Property Management different from others in the industry is our customer service. Somewhere along the line, businesses forgot that the client comes first. Without a client trusting us with their property, we wouldn't have a business at all.
Our goal is to bring back that customer service and the personalization of services. I want to make it easy on the client to trust what we do and breathe easy as we manage your Gainesville property. We want to take things back to how it used to be when people cared for each other. At Golden Rule Real Estate & Property Management, that's a major part of who we are and what we do.
Relationship building is an important part of our company, and it's why I am passionate about property management. This isn't a relationship that lasts a few months. Property management is a long-term relationship and I look forward to earning your trust.
When you use Golden Rule as your property management company, you are also making a difference. We currently support Art Healing through Touch A Life. When you pay for our services, a percentage of every payment is sent to one of our charities to help make a difference in someone's life.
A Unique Fee Model
We also offer a unique flat-fee model of payment that no one else in the Gainesville market can match. While you're charged a monthly percentage by other companies, this can drive up the cost for more expensive homes. When you work with Golden Rule Real Estate & Property Management, you're charged a flat fee, no matter how much rent you are receiving from the tenant.
It's these details that make us different: a versatile background, a focus on customer service that creates a great experience for our clients and a logical approach to billing.